The New 2023 Dodge Challenger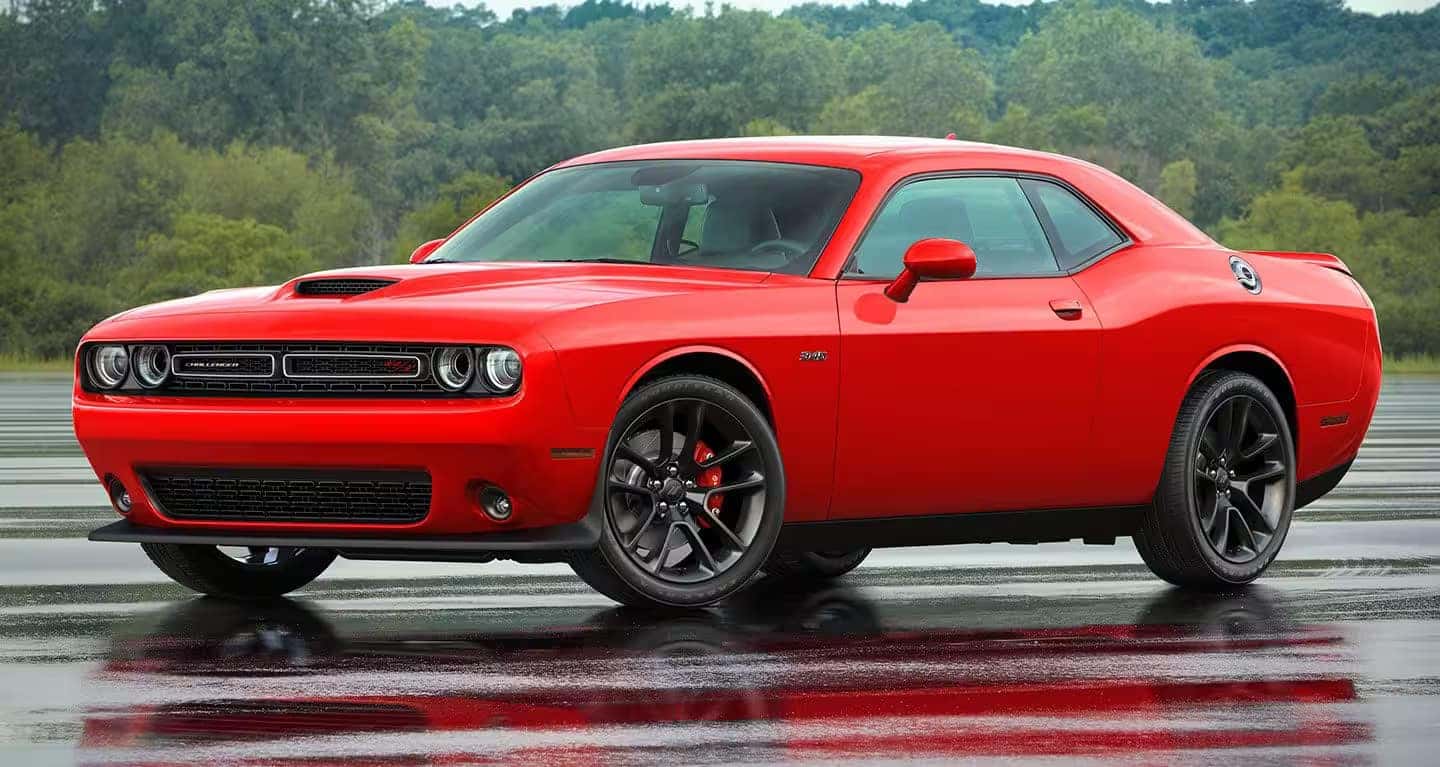 A life well-lived is one that's free from the crowd. Break away with the 2023 Dodge Challenger. This eye-catching ride does its brand name well, boasting a powerful engine and sleek design. It's outfitted with the latest technologies to ensure you enjoy your drive no matter where it takes you – from long highway stretches to tight city corners. Read on to learn more about this year's release and why you should choose Patriot CDJR of Pryor for your coupe purchase.
2023 Dodge Challenger Trim Levels
Choose your fighter from Dodge's comprehensive line of Challenger trims. The SXT, GT, R/T, R/T Scat Pack, and R/T Scat Pack Widebody each have something special to bring to the table, whether that's in the way of practical features or off-roading equipment. A breakdown of 2023's five trims is outlined below.
Dodge Challenger SXT
First in line as your potential throne of the road, we have the Challenger SXT. This robust five-seater is the most cost-effective option in its series, offering the basic assets every driver has come to expect from Dodge. Benefit from the roominess of a large cabin, bucket-style seats faced in comfy fabric, and a leather-wrapped steering wheel, alongside other great standard interior features like A/C, steering wheel audio controls, and a power driver's seat.
16.2 cubic feet of trunk space is more than enough to haul groceries, camping equipment, football gear, and the works. With the SXT's powerful 303 horsepower 3.6L V6 gas engine, reliably getting to and from destinations shouldn't be a problem, either.
This vehicle boasts an impressive 555 miles of highway cruising range atop a reasonable combined fuel efficiency of 23 miles per gallon. It comes equipped with a number of essential safety features, including brake assist, stability control, traction control, tire pressure monitoring, ABS, and a backup camera.
Standout Features
Lots of Color Options: Some car manufacturers will force you to pay for more expensive trims just to get the color you want. Dodge is different, offering its 2023 Challenger in 14 options right out of the gate.
Hot Wheels: The Challenger's 18 by 7.5 inch aluminum wheels are enough to bring out any driver's inner kid.
Dodge Challenger GT
Next up in the ranks is the Dodge Challenger GT. This slightly more expensive option is geared towards those who want a bit more robustness from their everyday ride. It is also a five-seat car with a 3.6L V6 gas engine capable of delivering 303 horsepower at 6350 RPM and 268 lb-ft of torque at 4800 RPM. Things feel relatively similar on the inside, too – the cloth bucket seats and a leather-wrapped steering wheel remain nearly identical to the SXT, although there is extra side bolstering to be found along the car's interior.
Steering-mounted shift controls are intended to facilitate transitioning on the fly, while added performance steering, brakes, and suspension features make the GT slightly easier to handle than its aforementioned counterpart.
The biggest difference you'll notice between this trim and the last is its outer appearance. The Challenger GT takes on a uniquely bold look thanks to larger 20-inch wheels, standard foglights, and a performance hood with power bulges. Rolling down the block has never felt so commanding.
Standout Features
Keyless Start: Hands full? The Dodge Challenger GT's standard keyless entry feature means you won't have to fumble for your keys while carrying groceries or whatever else needs lugging.
Steering Wheel Audio Controls: Take charge of both the road and radio with this vehicle's convenient built-in steering wheel audio controls.
Dodge Challenger R/T
If you're really looking to rev up, consider the Dodge Challenger R/T. It begins a three-part category of trims defined by power. This specific car is the first in the 2023 lineup to come with a V8 gas engine; all 375 horsepower and 410 lb-ft of torque are standard. Its six-speed manual transmission is enough for most buyers, but you always have the option to upgrade to an eight-speed automatic at an extra cost if you so choose. Short and long-arm suspension in the R/T helps to reduce body roll and improve cornering in low-traction conditions. The car is also designed to include essentials like stability control, brake assist, and tire pressure monitoring.
Inside, passengers have the luxury of enjoying their favorite songs through a premium multi-speaker audio system. Smart device integration is standard, so there shouldn't be any trouble getting playlists going. Comfort is also guaranteed by way of standard multi-zone AC, climate control, and cruise control.
Whoever said 'it's what's on the inside that counts' clearly never saw the Challenger R/T. It's always been a distinct part of Dodge's Challenger releases and this year is no different. There's no missing those specially styled 20-inch alloy wheels or dual chromed exhaust tips. The iconic design also includes signature Hemi and R/T badging for a look that truly stands out.
Standout Features
Unfettered Power: The 2023 Challenger R/T is characterized by its powerful, unrelenting 375 horsepower V8 gas engine.
Great Fuel Economy: This car not only looks good and performs well, but delivers an excellent combined fuel economy of 18 MPG.
Dodge Challenger R/T Scat Pack
This next iteration of the Challenger is a favorite among muscle car enthusiasts. Its 6.4-liter Hemi V8 engine packs an impressive 485 horsepower that gets road adventures off to a quick start. Rev up the engine and brace yourself as the R/T Scat Pack blasts past obstacles with ease. Too much speed? Dodge kept that in mind and added upgraded Brembo four-piston brakes to make control a breeze.
And again, whoever said 'no one likes showoffs' definitely never owned a Challenger with line lock and standard launch control like this one. On-board SRT Performance Pages bring all that power into the twenty-first century, allowing you to keep track of how quickly you blast off to 60 mph.
People love the Challenger for its iconic style and performance, but there's still something to be said about the passengers' side of the coin. Techies will appreciate the R/T Scat Pack's standard Wi-Fi hotspot, MP3 player, and smart device integration capabilities. Its front touchscreen interface spans a wider 8.4 inches, making it easier to navigate through the car's many features during long journeys.
Best of all, everything that comes standard in this trim only represents the beginning of what's possible. Buyers have the option to spring for a variety of upgrades, from a sunroof to remote engine start to heated front seats.
Standout Features
Standard Wi-Fi Hotspot: The R/T Scat Pack comes with a standard Wi-Fi Hotspot that allows devices to connect and stay connected while out on the open road.
On-board SRT Performance Pages: With the on-board SRT Performance Pages, drivers can stay informed about how fast they're going and track their progress while burning rubber.
Dodge Challenger R/T Scat Pack Widebody
Lastly, we have the ever-impressive Challenger R/T Scat Pack Widebody. As its name implies, this final trim is essentially an enhancement of its counterpart with a much wider body being the biggest difference to be noted. The coupe has an additional few inches of exterior width and ever so slightly higher curb weight, although height, trunk space, and ground clearance remain the same. Under the hood awaits a 485 horsepower, 475 lb-ft torque six-speed manual transmission engine. You'll be able to rely on it for 425.5 miles of highway cruising range – all at a combined fuel efficiency of 17 MPG.
But that's not all. The R/T Scat Pack Widebody boasts an unbelievably adaptive suspension system that makes it the easiest Challenger to navigate through corners. It also features larger six-piston Brembo calipers, giving you the confidence to push it a little harder when necessary. To complete the package, Dodge has included high-performance Pirelli rubber installed on Devil's Rim Granite 20-inch alloy wheels – the stuff of dreams for any car enthusiast.
Despite already being top-of-the-line, there are plenty more ways to make your new Widebody even better. Dodge offers several package upgrades, including the sound-enhancing Alpine Audio Group w/Subwoofer add-on, Carbon/Suede Interior Package, and HEMI Orange Package.
Standout Features
Six-Piston Brembo Calipers: Six-piston Brembo calipers are exactly what you need to get the most out of your driving experience. With their higher level of stopping power, they provide a sure-footed feel no matter the situation.
Adaptive Suspension: Dodge's adaptive suspension system keeps your Challenger perfectly balanced through corners and over bumps alike. No matter the terrain, you're sure to have a comfortable ride with this system in place.
Dodge Challenger SRT
Have a need for speed? The 2023 Charger SRT is sure to satisfy it. This trim level has three subcategories to its name, each with an unbelievable amount of life to be found under the hood. Differently configured 6.2-liter supercharged V8 engines give 717 horsepower to Hellcats, 797 horsepower to Hellcat Redeyes, and 807 horsepower to the limited-edition Black Ghost SRT.
Dodge made a point of honing that power by adding six-piston Brembo brakes to the mix along with adaptive competition suspension and a high-performance engine cooling system. The dual snorkel hood and exclusive exterior styling? That's just for show. This is the perfect Challenger for die-hard road racing aficionados who don't want to feel limited by the speed everyone else accepts as standard.
Standout Features
High-Power V8 Engine: The Challenger SRT touts one of Dodge's most powerful engines, a 6.2-liter supercharged V8.
Adaptive Competition Suspension: The SRT trim level comes equipped with a competition-tuned suspension for improved handling and stability.
Patriot CDJR of Pryor Is Your Go-To Destination for the 2023 Dodge Challenger
In the market for a new 2023 Dodge Challenger? Look no further than Patriot CDJR of Pryor. Our local dealership leads the region with its massive selection of new trims, used vehicles, and exceptionally friendly staff. We're here to do more than just offer a test drive – you can turn to us for everything from service and repair to financing solutions and answers to vehicle questions. Nowhere else will you find a team of automotive experts more dedicated to ensuring that you drive away with the best possible deal.
Contact Patriot CDJR of Pryor today to get the wheels rolling on your next coupe purchase.