The New 2023 Jeep Wagoneer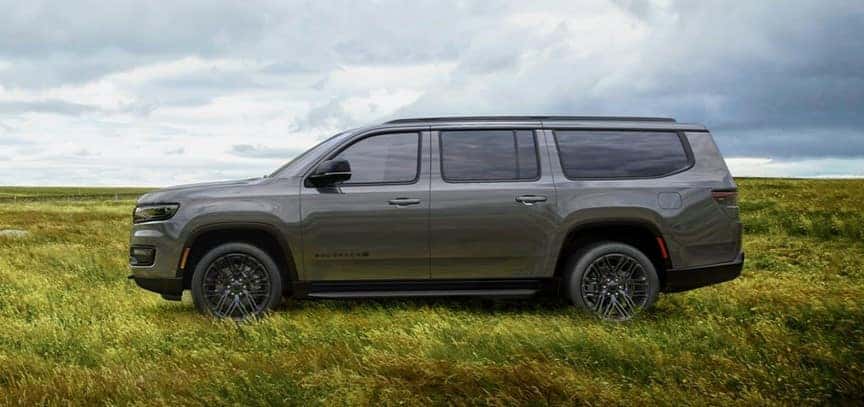 The modern driver demands not only convenience and safety, but also a driving experience that is truly unique. The 2023 Jeep Wagoneer delivers on all fronts, with its luxurious interior, cutting-edge technology and striking exterior design. Read on for more information about this year's series and the slew of exciting features it has to offer.
2023 Jeep Wagoneer Colors and Interior
Every iteration of the 2023 Jeep Wagoneer is available in seven color options, including Bright White Clearcoat, Baltic Gray Metallic Clearcoat, Diamond Black Crystal Pearlcoat, River Rock, Silver Zynith and Velvet Red Pearlcoat.
While details may vary by trim level, all interiors come standard with a full-length center console, leather-trimmed bucket seats and a touchscreen display. Soft-touch materials and a variety of special trims are also available for the utmost in comfort and style.
2023 Jeep Wagoneer Trim Levels
The 2023 Jeep Wagoneer is an impressive SUV all-around. It comes in four distinct trim levels; the Wagoneer Base Model, Wagoneer Series II, Wagoneer Carbide and Wagoneer Series III. Each option has its own unique differentiators and special features to consider – we've taken the liberty of breaking them down for you below.
2023 Jeep Wagoneer Base Model
Beyond what its name suggests, the 2023 Jeep Wagoneer Base Model is anything but basic. The trim is an excellent example of Jeep's high standards when it comes to all of its vehicles, lowest price point or not.
This eight-seater SUV comes in both 4×2 and 4×2 drivetrains. It's equipped with a twin-turbocharged 3.0-liter inline-six engine capable of hitting 392 horsepower @ 5600 rpm and delivering 404 lb-ft of torque.
The Base sets the stage for preceding trims with a slew of standard capabilities and features that you can expect to find throughout the series. This includes plenty of passenger and cargo space, highly-adjustable seats and a backup camera.
There are plenty of perks to note comfort-wise, from climate control and a heated steering wheel to leather-wrapped, self-heating and cooling bucket seats at standard. Passengers will enjoy the Wagoneer's Bluetooth and smart device compatibility, HD radio, MP3 player and Wi-Fi hotspot. A standard premium sound system ensures that every tune played in this vehicle sounds great, regardless of who has the proverbial aux.
The trim level also comes with a number of built-in functions designed to make your drives easier, like remote engine start, a power driver's seat, power mirrors and built-in navigation system. The Base Model's flexible cargo capacity is perfect for journeys big and small, while its hands-free liftgate makes loading a breeze.
There's so much to love in this one package – enough to make you wonder if any further searching is even necessary.
Standout Features:
18-Inch Aluminum Wheels: The 2023 Base Wagoneer's wheels measure a sizable 18 inches across and give it a stature above most conventional SUVs.
Best-In-Class Towing Capacity: The Wagoneer boasts an incredible 10,000 Pound towing capacity, making it capable of handling life's heaviest loads.
2023 Jeep Wagoneer Series II
Next up in the 2023 Wagoneer family is the Series II – a familiar iteration of the Base Model, only with a lot more oomph. The trim takes inspiration from its predecessor in terms of structure and looks by offering both a 2×4 and 4×4 drivetrain, as well as the same standard color options and amount of interior space. Where things change is under the hood – the Series II upgrades the Wagoneer's engine to give it an increased 420 horsepower and 468 lb-ft of torque. The eight-speed automatic stands on higher 20-inch aluminum wheels that are also an inch wider than the Base's.
There's more in the way of fuel economy here, with a combined 20 MPG and extended highway cruising range of 636 miles. This makes the Series II worth considering if you plan on taking your vehicle on extended journeys.
Inside, the trim has many of the same standard features as the Base, including smart device and Bluetooth integration, a Wi-Fi hotspot, MP3 player, steering wheel audio controls, navigation system and premium Alpine sound system. It goes a bit further into detail however with upgraded Nappa leather upholstery, a woodgrain interior and added wireless charging pad.
The 2023 Wagoneer Series II also adds more in the way of safety features; its safety suite is upgraded with active lane management, adaptive cruise control with stop and go, and rain-sensing wipers.
This model is a great all-rounder that's ideal for those who are looking for a vehicle that they can truly rely on and enjoy over the long haul.
Standout Features:
Keyless Start: The Wagoneer Series II has a keyless start system for easy transitions between life and the road.
Seat Memory: Particular about the way you sit while driving? The Series II has you covered with standard seat memory.
2023 Jeep Wagoneer Carbide
Looks aren't everything in life, but when you're making an investment as important as this, it's worth considering some visual value. That's exactly what the 2023 Jeep Wagoneer Carbide delivers – the trim serves as an extension of the Series II by offering the same drivetrains and performance, but does so with extra cosmetics.
The most notable difference would have to be the exterior itself, with a characteristic black gloss finish that truly makes a statement. The wheels come in the same standard size of 20 inches, but can be upgraded to 22 inches if you're feeling brave.
Up on the top of the SUV, you'll notice added roof rail crossbars and a massive three-pane panoramic sunroof. Both of these are standard as well, making the Carbide a great choice for those who appreciate open-air rides and outdoor activities.
As for trunk space, this trim adds upon the Series I and Series II's already generous offerings by introducing a cargo cover and reversible cargo mat. A heated steering wheel, built-in universal garage door opener and remote trunk release system are also found standard here.
On the safety front, the Carbide delivers everything you'd expect to find in the basic Series II, including a back-up camera, rear parking aid, blindspot monitoring, lane keeping assist and lane departure warning. Like other Wagoneers, this trim comes with standard traction control, which, when paired with the 4×4 drivetrain, ensures that you remain in control of your vehicle regardless of the terrain at hand.
Standout Features:
Cooled and Heated Front Seats: Whether you're driving through the Colorado mountains or New Mexico desert, the Wagoneer Carbide has cooled and heated front seats to keep you comfortable for the entire ride.
Leather and Woodgrain Interior: The Wagoneer Carbide's woodgrain trim and Nappa leather seating is the epitome of luxury and comfort.
2023 Jeep Wagoneer Series III
Last, but not least, is the Wagoneer Series III. This trim tops the 2023 lineup by offering pretty much everything its counterparts don't. Engine performance and wheel size stay the same, but aside from that, there are a lot more bells and whistles at play.
The Series III is the only model to offer a Head-Up Display and Automatic High Beams, as well as two additional USB ports in the rear. The vehicle also features heated second-row seats and power-reclining third-row seats. Even more impressive is the McIntosh audio system upgrade, which boosts the interior with 19 speakers worth of audio power.
The 4×4 version of this trim comes with Quadra-Trac II AWD and a two-speed transfer case. This allows the driver to engage in extreme off-roading with ease, while additional load-leveling rear suspension ensures the ride remains smooth.
In terms of safety, all Wagoneers come with keyless start, adaptive cruise control, lane keep assist, blind spot monitoring and a back-up camera system. A multicolor heads-up display gives you real-time road info on the windshield, while Automatic Emergency Braking is always ready to jump into action should danger arise.
And who could miss those 20-inch machined aluminum wheels? The shining exterior accentuates the already impressive look of the SUV, enabling it to stand out from the crowd in every way possible.
Standout Features:
19-Speaker McIntosh Audio System: An upgraded 19-speaker McIntosh audio system is one of the most exciting features of the Series III Wagoneer, offering sound quality above what was already a high-grade Alpine one.
Height-Adjustable Adaptive Air Suspension: Standard on four-wheel drive models, the Series III's height-adjustable adaptive air suspension offers enhanced agility and handling for any type of terrain.
See the New 2023 Jeep Wagoneer for Yourself
The 2023 Jeep Wagoneer marks an exciting year for Jeep enthusiasts, and Patriot CDJR of Pryor is proud to be your source for this luxurious vehicle. With a knowledgeable staff, plenty of financing options and a wide selection of vehicles to choose from, you're sure to find the perfect trim for your next adventure at our local dealership. Stop by or reach out today to learn more!