The New 2024 Jeep Wrangler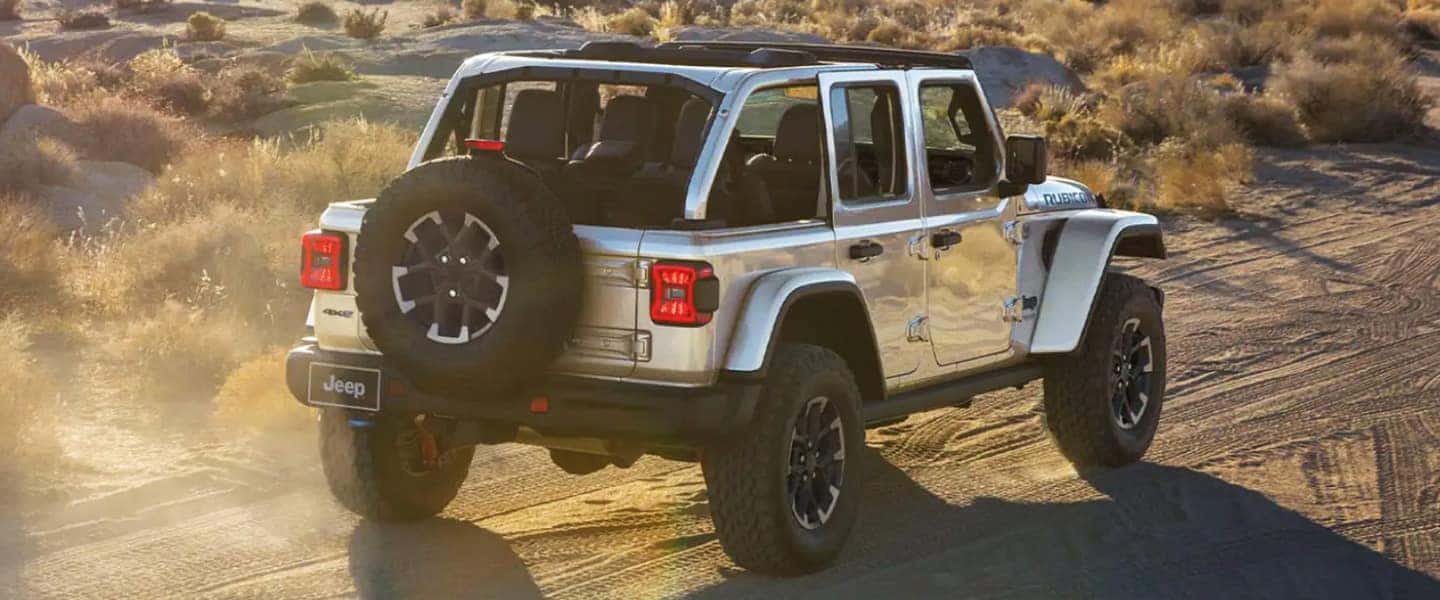 Introducing the 2024 Jeep Wrangler at Patriot CDJR of Pryor: The Ultimate Choice for Oklahoma Adventurers. With unmatched power and cutting-edge features, this Jeep Wrangler edition promises effortless off-road journeys. Coupled with fresh design updates, our Pryor showroom showcases a diverse range of these iconic SUVs. Dive into the unparalleled offerings of the 2024 Jeep Wrangler today.
The Legacy of the Jeep Wrangler: Leading Up to 2024
Few car enthusiasts can discuss the Jeep brand without bringing up its Wrangler series in one way or another. From its first iteration back in 1986 to its current 2024 version, this lineup of SUVs has gone through quite a few changes and improvements to maintain a position as one of the most sought-after vehicles on the market. You simply can't beat the Wrangler's breadth of performance, capabilities, or style offerings – especially not this year.
Vibrant Palette: Exploring the 2024 Jeep Wrangler Colors
What's in a color? Well, a whole lot. The exterior of the vehicle you drive is like a reflection of yourself. Driving with full confidence in and ownership of one starts with choosing something to match. Luckily, the 2024 Wrangler series has plenty of sharp color options to choose from.
2024 Jeep Wrangler colors at Patriot Pryor:
Bikini
Anvil
Earl
Firecracker Red
Granite Crystal
Silver Zynith
High Velocity
Hydro Blue
Sarge
Bright White
Black
Inside the 2024 Jeep Wrangler: A Deep Dive Into the Interior
Exploring the 2024 Jeep Wrangler Interior: From Classic to Luxurious Trims The 2024 Jeep Wrangler boasts a diverse interior range tailored to every preference. While base models exude timeless charm with standard finishes, premium trims elevate the experience with lavish leather accents on steering wheels and seats. Across all variants, a feature-rich dashboard stands out, packed with advanced infotainment and cutting-edge technology.
Performance and Off-Roading Excellence
The Jeep Wrangler was designed for off-road performance. This year's catalog of cars is especially well equipped to tackle the realities of rough terrain, offering Warn Winch and full-float real axel configurations for superior traction and strength. And with the Xtreme 35 Package, you get massive wheels paired with 32.7 cm (12.9-inchs) of ground clearance – perfect for tackling tough trails or deep mud pits!
There are four engine options to choose from across the Wrangler's various trim levels in 2024, specifically a 3.6-liter V6, turbocharged 2.0-liter four-cylinder, 6.4-liter V8, and plug-in hybrid powertrain. Each have their own performance ratings and respective benefits, although the 6.4-liter comes in as the most powerful with 470 horsepower and 470 lb-ft of torque.
Safety, Technology, and Modern Features in the 2024 Wrangler
Muscle aside, your new SUV will be nothing if not safe. Whether you plan on using it to haul cargo, explore off the beaten path, or drive around town, the Jeep Wrangler is equipped with safety features to make every journey a confident one. This year's lineup comes with a standard rearview camera across all trims along with forward collision warning, forward automatic emergency braking, blind-spot monitoring, rear cross-traffic alert, adaptive cruise control, rear parking sensors, and a forward-facing off-road camera in most models. The National Highway Traffic Safety Administration gave the 2024 Wrangler three out of five stars in its frontal and side rollover tests.
Customizing Your 2024 Jeep Wrangler at Patriot CDJR of Pryor
The great thing about having so many engine and trim options with the 2024 Wrangler is that it opens the door to seemingly endless potential configurations. You have the power to get specific about what type of drivetrain you want, how much power it hones, where you'll be driving, and which features you desire most, plus add discretionary upgrades through the Convenience Group, Technology Group, Safety Group, and Xtreme 35 packages.
At Patriot CDJR of Pryor, we make the car buying process simple—you can easily browse our online inventory or come into the dealership for a test drive to see what works best for your needs.
Trim Levels of the 2024 Jeep Wrangler
Jeep's 2024 Wranglers all exceed expectations by building upon the capabilities of model years past. But there are plenty of differences to be noted between the Sport, Sport S, Willys, Sahara, Rubicon, High Altitude, and Rubicon 392. We'll go over some of the most important in detail below.
Sport
Let's start things off with the Sport – an entry-level trim with above-average offerings. This base model has everything you've come to expect from the Wrangler, including classic crank-down windows, high-powered foglights, tow hooks, skid plates, and robust steel wheels. Its standard 12.3-inch touchscreen with Apple CarPlay and Android Auto smartphone integration set the stage for much more tech to come throughout the lineup.
Standout Features
LED Interior Lighting: Nighttime drives and journeys into parking garages have never felt so fancy.
Push-Button Start: Enjoy performance at the push of a button with the Wrangler Sport's standard push-button start system.
Sport S
The standard Sport is great, but for those in search of extra functionality, the Sport S is even better. You'll end up paying a bit more for its alloy wheels, leather-wrapped steering wheel, and power window and door locks, which are a step up from the manual ones found in the base trim. Aside from that, almost everything else remains the same in terms of performance. You do have the option to upgrade with one of several add-on packages though, including the Convenience Group, the Technology Group, and the Safety Group packages.
Standout Features
Leather-Wrapped Steering Wheel: Your hands deserve a little TLC. Enjoy it with this trim's standard leather-wrapped steering wheel.
Keyless Entry: The Sport S comes with an upgraded keyless entry system for easier transitions between life and the road.
Willys
Jeep's line of Willys vehicles maintains a rich history of performance and capability. It has always bridged the gap between modern tech and classic style with a unique look, advanced features, and powerful engine. This year is no exception. The 2024 Wrangler Willys is an absolute powerhouse, touting everything the Sport S does plus Rubicon® shocks, rock rails, and several additional trim-exclusive interior and exterior design elements. Trail Rated® capability, a locking rear differential, trailer-towing equipment, and massive 33‑inch off‑road tires further enhance this SUV's ability to command both road and earth.
Standout Features
Willys Branding: Pay homage to a long-standing partnership with the iconic Willys branding featured in this Wrangler's interior and exterior design.
LED Headlamps: The Wrangler Willys features LED headlamps that provide improved visibility and style on the road.
Sahara
Next up, we've got the Sahara. It can be thought of as the aforementioned Wranglers' slightly bougier cousin, touting visual enhancements both inside and outside of the cabin. The first thing you'll notice is a reimagined grille that matches the SUV's full body color along with updated fender flares. Behind the dashboard awaits an even more impressive driver information display, heated front seats, a heated steering wheel, and automatic climate control for additional comfort and convenience.
Standout Features
18-Inch Machined-Face Wheels: The Sahara comes with an attractive set of 18-inch wheels that should have no trouble tackling whatever road you want to throw at them.
Leather Upholstery: Comfort isn't just a feeling – it's a lifestyle. And it's the kind of lifestyle you'll get with this trim level's premium leather upholstery.
Rubicon
There's no mistaking the Rubicon for anything else on the road. Both the two and four-door versions share an off-road look that has become synonymous with Jeep, while the performance offered under the hood backs up that undeniable presence with power. This trim goes even further than the Sport, Willys, and Sahara with specially engineered tow and auxiliary switches, heavy-duty shocks, and electronic sway bar disconnect. It comes with 17-inch machined-face wheels fit for 33-inch off-road tires and a maximum towing capacity of 3500 lbs.
Standout Features
Rock Rails: The Rubicon's rock rails provide extra protection for the undercarriage of your Jeep while also giving it a rugged look that's sure to turn heads.
4:1 Low-Range Gearing: Adapted gearing empowers you tackle even steep inclines with ease.
High Altitude
Let's take things to a higher level with the next trim in the 2024 Wrangler lineup, the High Altitude. It draws inspiration from the Sahara while adding its own twist of functionalities and onboard features. Just a few of the practical perks you'll get with this model include power-adjustable front seats, heated front seats and steering wheel, adaptive cruise control, and rear parking sensors. An integrated navigation system and Alpine premium stereo system come together to make your journeys as productive as they are enjoyable.
Standout Features
20-inch Wheels: With massive 20-inch wheels, the High Altitude quite literally sits above other Wrangler trims.
Side Steps: Side steps help make entering and exiting the vehicle easier for those who don't quite have the vertical leap they used to.
Rubicon 392
Now for the creme de la creme of the 2024 Wrangler series – the Rubicon 392. It's the only model out this year with a 6.4L HEMI® V8 engine as standard. A lofty 470-horsepower rating paired with full-time all-wheel drive, and an eight-speed automatic transmission means this baby can take you anywhere, both on and off-road. The onboard features are like the perfect marriage between what the High Altitude and base Rubicon have to offer in everyday drivability and rough terrain handling. High-performance brakes, Fox shock absorbers, a two-inch suspension lift, and everything included in the Xtreme 35 package come standard.
Standout Features
Luxury Interior: With a well-appointed red and black Nappa leather upholstery-lined interior cabin space, the 2024 Rubicon 392 proves that it's possible to both work hard and look the part.
Front-Facing Camera: This model's front-facing camera can act as a second set of eyes for anything that may come between your Wrangler's front wheels and the road.
Patriot CDJR of Pryor Has Your New 2024 Jeep Wrangler
Ready to hop behind the wheel of a 2024 Jeep Wrangler and see what it can do for yourself? Patriot CDJR of Pryor is the best place to turn for so many reasons. We've got a diverse selection of this year's offerings, plus countless other new and pre-owned models to explore. Our friendly team is on-hand and ready to help guide your Jeep journey, whether you're shopping for a new model or just learning more about what's available. We also offer financing options, essential services, pricing specials, and vehicle warranties that no other CDJR Dealership in Pryor OK can beat. Contact us today to get started on your car buying journey.